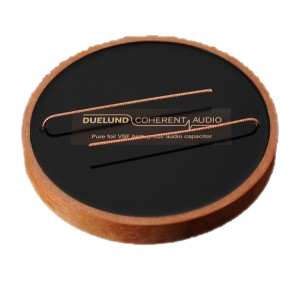 The Duelund resistor.
Thus far this resistor has only been regarded as a necessary evil, something that was born out of necessity but scorned for its negative impact on the fidelity of the signal. This has changed with the introduction of the Duelund Coherent Audio Resistors. When designing these components the task was that the voicecoil of the speaker and the resistor be viewed as a whole rather than two separate entities. The Duelund CAST proces applied to the top of the line resistor makes it an extraordinary component completely without peers. The result is a resistor which seemingly has no sound of its own and it allows the drivers to perform at their very best.

The Duelund line of capacitors adheres to the Virtual Stack Foil design. This breakthrough approach pioneered by Mr. Duelund renders all previous attempts at audio capacitors obsolete. The pure metal foil construction along with obsessive measures against microphony enable a level of musical performance previously unfathomable.